Plastic profile extrusion plant/PVC profile production line/profile production machine
Plastic profile extrusion plant adopts screw rotation pressurization method which can make molding material extruded from the barrel to die head continuously; then the melting material is shaped by molds, similar to the mould lip; lastly the molded product is drawn out of the mold by haul-off device constantly while cooling forming to obtain desired products. Meanwhile we also need to control the extrusion process which emphasizes on mixing, molding temperature, screw cooling and rotation speed, extrusion pressure, cooling forming and so on in order to obtain excellent appearance and internal quality profiles. The plastic profile production line is featured by branded PLC computer control, reasonable design, stable operation, vacuum calibration table with automatic length-setting cutting. Vacuum calibration adopts a specially increasing vortex cooling system to satisfy fast cooling and high-speed extrusion. Haul-off machine with unique lifting technology has properties of steady work, good reliability, strong pulling force. Cutting machine speed synchronized with the hauling-off speed for all the action.
Qingdao Canplast Machinery welcome friends around the world to inquire with Plastic profile extrusion plan.
Service for Plastic profile extrusion plan:
Pre-Pre-sale: customers can consult to our company for various technique and business, our company will provide related information to facilitate reference, and provides the corresponding marketing information, sales price, sales method, to help customers know the entire market.
In-sIn Insale: after the two sides signed the contract, our company will provide corresponding design of water, electricity, air, ground installation diagram, according to customer requirements and the actual situation. After the production completed, we should inform customer in advance in order to inspect machine testing, and provide various convenience like airport pick-up, catering, hotel booking etc.
Plastic profile extrusion plan After-sales: after equipment completed in our company and debugging qualified, equipment arrived customer's factory, our technician should arrive customer's factory in time at customer's requirements to do installation, commissioning, personnel training, technology transfer, until the user can operate independently, and produce qualified products.
Formulation and technical support: all production equipment of our company are free of charge to provide the production formula and debug the equipment according to the formula. Any problem in the production process can call us for consultation.
PVC wood plastic profile extrusion plant Maintenance and warranty for equipment: all equipment of our company are provided with corresponding accessories, the warranty period of our equipment is one year, operation manual and maintenance manual are offered.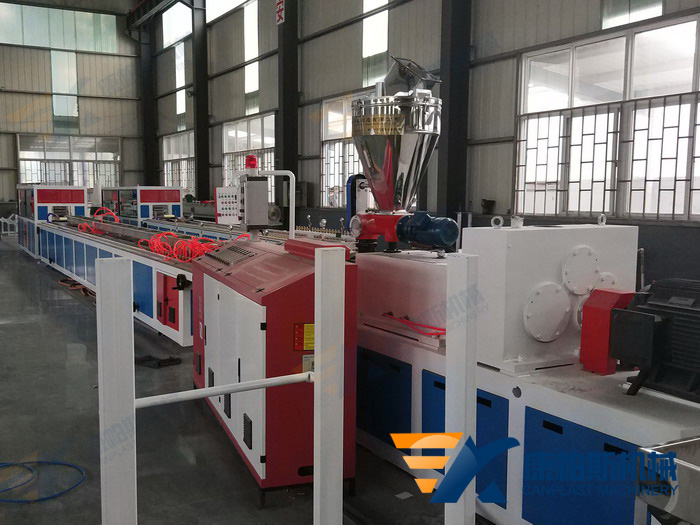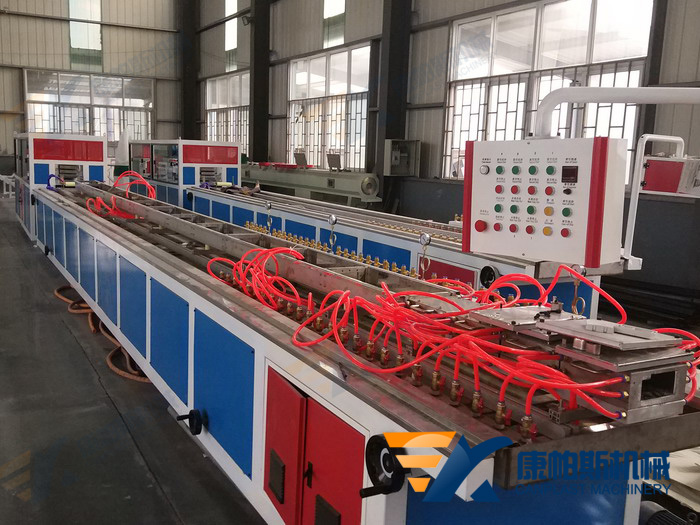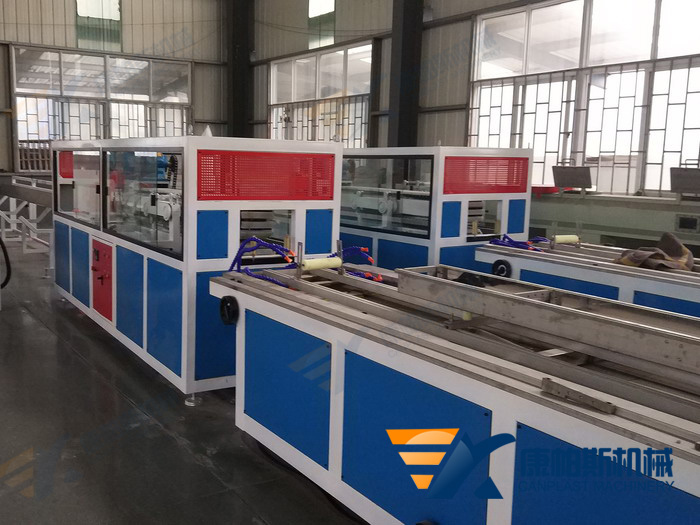 Plastic profile extrusion plan Main technical parameter:
Model

SJSZ51/105

SJSZ65/132

SJSZ80/156

SJSZ92/188

material

PVC+辅料

Diameter mm

51/105

65/132

80/156

92/188

Screw ratio (L/D)

22:1

22:1

22:1

28:1

Screw barrel material:

38CrMoAIA nitridation treatment

Screw number:

2

2

2

2

Transducer

frequency control

Motor power kw

22

37

55

110

Heating power KW

12

20

36

48

Max. extrusion capacity kg/h

120

240

350

500
Our main products are:PP-PC hollow grid board production line, PE, PP, PS, PVC Board Production Line, WPC furniture-cabinet board production line,PP-PE-PVC Wood Plastic Composite Profile Extrusion Line, PP-R Cold-Hot Water Supply Extrusion Line, PVC Pipe Extrusion Line, PE-PP Gas/Water Supply Pipe Extrusion Line.
Accessory products: